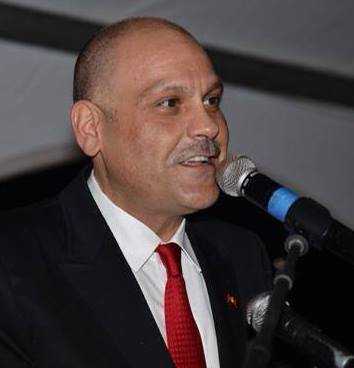 In 1 Thessalonians 5: verses 16 to18 the word of God says "Rejoice evermore. Pray without ceasing. In everything give thanks for this is the will of God in Christ Jesus concerning you".
Today I am humbled by the task assigned to me to join in this special Birthday Celebration as we thank Almighty God and honour a remarkable daughter of St. Peters and of Pares Village Mrs. Alexandrina Viola Looby.
Ms. Vi is celebrating her 90th Birthday which means she is now entering her 10th Decade. This is an extraordinary achievement. It means that throughout her lifetime she has been witness to an astounding transformation in her family, her village, and her country of birth.
This humble, lovable, and peaceful lady was born on July 30th 1928. She later got married to Mr. Carl Mandison Looby her one and only love at the tender age of 30.
Ladies and gentlemen both Vi and Carl loved each other dearly and since those were the days before any television, she didn't waste any time and followed the Lord instructions to be fruitful and multiply and replenish the earth and so she had all of her nine children by time she was 35 years old!
First came Helena Looby- Bramble then Kerley Looby- White followed by Delora Looby Pilgrim Next in the line-up is Randolph "Knowledge" Looby, Blondel Looby-Greaux then Ulric "Durban' Looby. Next in the line-up is the 7th sibling my dearest friend Ms. Dulcie Looby-Greene that I truly love like my own blood sister. Dulcie is followed by her last son Lorenzo and the baby of the bunch Sharon.
Additionally she has two adopted daughters, Brenda Harris-Ephraim & Cynthia Penny Walter. Ladies and Gentlemen, God has truly blessed Mrs. Looby as all her children are still alive and for this herculean effort in raising such a large family I ask that you join me in applauding this remarkable woman
She was a very dedicated and loving wife, and continues to be a dedicated Mother, Grandmother, Great Grand Mother and Friend to all her loved ones. I am told Mrs. Looby had more children than she ever gave birth to. So it's very difficult to give you an exact number as all her children's friends who always visited the home at all hours of the day were her children as well.
She often relates stories of how both she and Mr. Carl Looby had to struggle to support her family. She knew how to "Cut and Contrive" to make ends meet. She and her husband worked hard and did everything possible in making sure food was always on the table and that her children were clean and had decent clothes to wear.
Many of you can attest to the fact that Mrs. Looby is a remarkable cook and her dinners and love kept Mr. Looby close to home and to her heart for over half a century. 54 years to be exact until he sadly passed away on Independence Day in 2012.
Ladies and Gentlemen Mrs. Looby is and has always been a powerful woman of God. This matriarch of the Looby clan has raised her family on the strong Christian values that she herself grew up on as a child. She attends the St. Peter's Anglican Church and is still an active member of the Mother's union. I am sure all the girls and especially the boys can tell you she didn't spare the rod or spoiled her children and that more than anything is why they have all turned out to be such productive and successful citizens.
I truly love Mrs. Looby dearly and have always admired her for the love and affection she has always given me whenever I visited her home. It's no secret that she makes the best pepperpot….. so I'm sure the audience will understand just why I visit her so often.
Mrs. Looby would often say to me "Mr. Michael, my husband and I worked hard to raise my nine children and I do not even know how we survived, but I thank God every day for my husband and his love and dedication for his family". I can also recall one time she and her husband were on their verandah sitting and I went and joined them. As they started talking and reminiscing on the old days, I was humbled and blown away as she recounted personal stories of the struggles in raising their family over the years. These were very special moments that brought me closer to the Looby family as I got an insight into the humility and strength of character of that lovely couple.
Mrs. Looby told me how much she believes in education and her insistence that all her children must finish secondary school. She once told me she could not send them to university but thank God, they have never disappointed her and have all made her proud.
In fact, she even said she wished she had 9 more exactly like them! If she had done that I would be recommending her for a national award and giving her a medal for being "mother of the century"!
Mrs. Looby, I was so elated when I was asked to offer remarks on behalf on your 90th Birthday celebration. I was booked to travel on the 28th of July but upon receiving my invitation I immediately changed my flight to be a part of this wonderful occasion. I would not have missed this day for anything.
90 years of a life dedicated to God and family is a life that is being well spent. I look forward to standing here again in another 10 years as we celebrate another milestone birthday
In closing, I will leave you with a passage from God's word that sums up who you really are;
A VIRTUOUS WOMAN
In Proverbs 31: Verses 28-30 there are some very profound words in describing who is a virtuous woman; it reads "Her children rise up and call her blessed; Her husband also and he praises her: Many daughters have done well, But you excel them all. Charm is deceitful, and beauty is passing, But a woman who fears the Lord she shall be praised".
You are truly a remarkable woman. May this birthday be the best that you ever had, and may God continue to bless you and grant you many more years in health and prosperity!