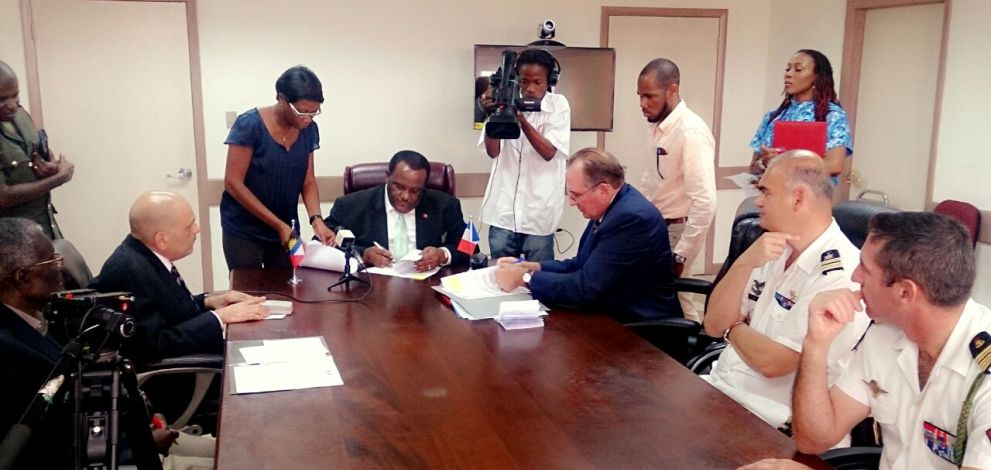 St. John's, Antigua and Barbuda:  The Acting Prime Minister the Hon. Steadroy "Cutie" Benjamin along with the French Ambassador for the OECS, Eric De La Moussaye on Friday 3rd July signed a Friendship agreement letter.
The agreement will pave and concretize the way the French forces do business with the Antigua and Barbuda Defense Force and will, primarily focus on training and exercise. French Ambassador for the OECS, Eric De La Moussaye, said the signing of the agreement signals the co-operation between the two countries.
Acting Prime Minister Attorney General, the Hon. Steadroy Benjamin, said that Antigua and Barbuda over the years has been very close with the French Territories, particularly Guadeloupe and that has cemented a common bond between France and Antigua and Barbuda.
The signed agreement will ensure that the French military forces, when arriving on Antigua will be protected, free to use the territories and feel safe, and in turn when Antiguan forces travel to the French territories, the same protection will be returned to our military forces.
Minister of Tourism, Economic Development, Investment and Energy, the Hon. Asot Michael, Acting Immigration Chief Miss Annette Mark and other French representatives were also present at the signing ceremony.