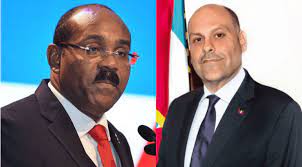 MEDIA STATEMENT
Gaston Browne prepared to MASH-UP ABLP government to spite
veteran ABLP MP Asot Michael
St Johns Antigua, Jan 25th, 2022 – After lauding Asot Michael as a key player in the revival of the Antigua and Barbuda Labour Party (ABLP) and its return to government in 2014 and being "the absolute best" in leveraging investor relations for the benefit of the State, Gaston Browne now seeks to dismiss his long-time colleague as the "devil incarnate".
"Let me tell you… and the rest of the population… I rather resign and become an ordinary citizen than to work with Asot Michael… It cannot happen. I would rather the government mashup than to bring back Asot Michael".
The Prime Minister spoke on his private Radio Station Point FM on January 21st, 2023 in an attempt to blame away his leadership of the ABLP to a loss of the popular vote in the January 18th, 2023 election and the unfortunate position of being a minority government.
Browne admitted that the election campaign "came down to… a personal vendetta of the Prime Minister against Asot Michael" in which his colleagues refused to support him:
"And it's not that I have not asked my colleagues you know… On one occasion we planned a public meeting during the same campaign to go into St. Peter to put some licks on him, to let the people know what the truth is.
"So, I said to my colleagues look, you can't have a situation in which the Prime Minister is the only one attacking Asot Michael. Which one of you… how many of you are prepared to carry the fight to him? Only one man put up his hand you know, of all the seventeen candidates. You know what we had to do? We had to cancel it".
Asot Michael is not surprised:
"It is clear that Gaston Browne's colleagues know and understand that the unconscionable, unlawful and hurtful treatment he has been meting out to me is unchristian, undemocratic, and not what the ABLP or the people of Antigua and Barbuda stand for. They therefore refused to go along with him just as I refused in the face of a personal onslaught on my character to cower and hide.
"His colleagues also appreciate my determination to stand up to his relentless bullying and his campaign to cancel me from the political life of Antigua and Barbuda just because I have questioned the source of the wealth he now claims for himself that cannot be explained by his legal income.
"I have taken on the ABLP under the leadership of Gaston Browne to Court and on each occasion the Courts have ruled in a manner consistent with my position; the Court has never ruled in favor of the actions of Gaston Browne against me".
Browne disclosed on January 21st, 2023 "I did recognize despite the polls that were done about two months ago that we started to lose momentum about a month ago", immediately after the December 19th, 2023 announcement of the date for the Asot Michael versus Gaston Browne election.
He bullied his candidates into a campaign with a direction and focus they did not support. He demotivated them; he dragged down the ticket and then sought to blame them for it:
"I was a little disappointed too that some of our Candidates had become nonchalant, complacent, and they were not mobilizing, to the extent that a number of our events had to be cancelled, because I said to them . . . when you come here with your two long hands, with three, four people, yuh not bussing-in people, and then the UPP appears to have bigger crowds… The people will get the impression that momentum is on the side of the UPP, and it will undermine our chances of winning".
Against the better judgment of his colleagues, he dictatorially decided to make the 2023 election the battleground for his defeat of Asot Michael. He failed in a most spectacular fashion.
He lost 11% of his support in St John's City West and he caused the party to lose 13% of its support across the country with 15 of the 17 candidates getting less votes in 2023 than they did in 2018.
By comparison, in 2023, Asot Michael received 401 votes more than he received in 2018 – an increase of 23%; and the history making independent candidate defeated the combined opposition of ABLP, UPP and DNA in St. Peter by 668 votes – a margin of 18%.
The people have spoken. But in true dictator style, Gaston Browne refuses to listen and is prepared to mash-up the Antigua and Barbuda Labour Party to satisfy his vendetta of hate and prejudice against Asot Michael.
-ENDS-