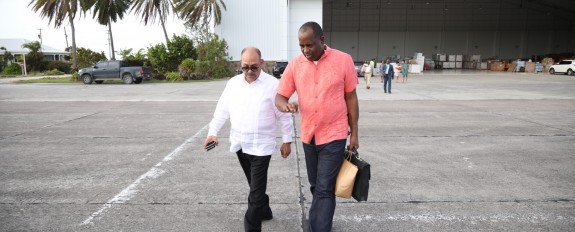 St. John's, Antigua – Dominica's Prime Minister The Hon. Roosevelt Skerrit travelled to Antigua today on an invitation from Antigua and Barbuda's Prime Minister the Hon. Gaston Browne to address first hand Dominicans living in Antigua and also to use the offices of the Prime Minister to make contact with the outside world and to meet with several international aid agencies along with the Ambassador to the Bolivarian Republic of Venezuela HE Carlos Perez, and the Ambassador to Cuba HE Gustavo Veliz Olivares. Prime Minister Skerrit was received at the V. C. Bird International Airport this morning by the Acting Prime Minister for Antigua and Barbuda, The Hon. Attorney General Steadroy Benjamin and Antigua and Barbuda Minister of Tourism, Economic Development, Investment & Energy, The Hon. Asot Michael.
PM Skerrit then conducted a live interview on ABS television, followed by a town-hall meeting with Dominicans residing in Antigua to update them on the status of the relief and recovery efforts taking place in Dominica, which had been ravaged by Hurricane Maria during the early hours of Tuesday 19th September.
Antigua and Barbuda's Prime Minister had earlier commended the Government and people of Dominica as being the first Caribbean country to offer a tangible contribution to the Barbuda hurricane relief fund following the passage of Hurricane Irma, two weeks ago.
Already in the spirit of true Caribbean fraternity, The Government and people of Antigua and Barbuda have committed to providing US$300,000 to the Dominica Hurricane relief effort.
In another extraordinary gesture of generosity, Tourism, Investment and Energy Minister Asot Michael and the immediate Michael family also pledged a personal contribution of US$100,000 to the Government and People of Dominica to assist in the re-building of Dominica.
Minister Michael in making his remarks at the town hall gathering, acknowledged Prime Minister Skerrit as the "first Prime Minister within the region to visit and to pledge support to rebuild Barbuda relief after seeing firsthand the devastation caused by Hurricane Irma".
Minister Michael said: "We recognize there is a strong bond of friendship between the people of Dominica and Antigua and Barbuda that has stood the test of time.  We understand the challenges that they are facing and will face in the days ahead and are committed to supporting the Government and the People of Dominica, as they seek to rebuild their nation."
The Tourism Minister also reiterated the pledge given by the Government of Antigua and Barbuda to provide opportunities to the people of Dominica and the consideration given to an "open door" policy, to welcome students of Dominica to Antigua to continue their education, while Dominica rebuilds.
On the evening of September 19th, hours after Hurricane Maria's impact on Dominica, Antigua and Barbuda's Prime Minister said:  "The Government and people of Antigua and Barbuda stands in solidarity with the government and people of the Commonwealth of Dominica during this time of need.  We express our deep sorrow at the loss of life and property resulting from the passage of Hurricane Maria over the island.  We stand ready to lend support to our brothers and sisters in Dominica."
The Acting Prime Minister the Hon. Attorney General Steadroy Benjamin said to the Dominicans at the town hall meeting, "both Dominica and Antigua and Barbuda have demonstrated that the bonds of Caribbean unity and brotherhood are not only alive and well but have only been further cemented by the tragedies caused by the recent hurricanes."