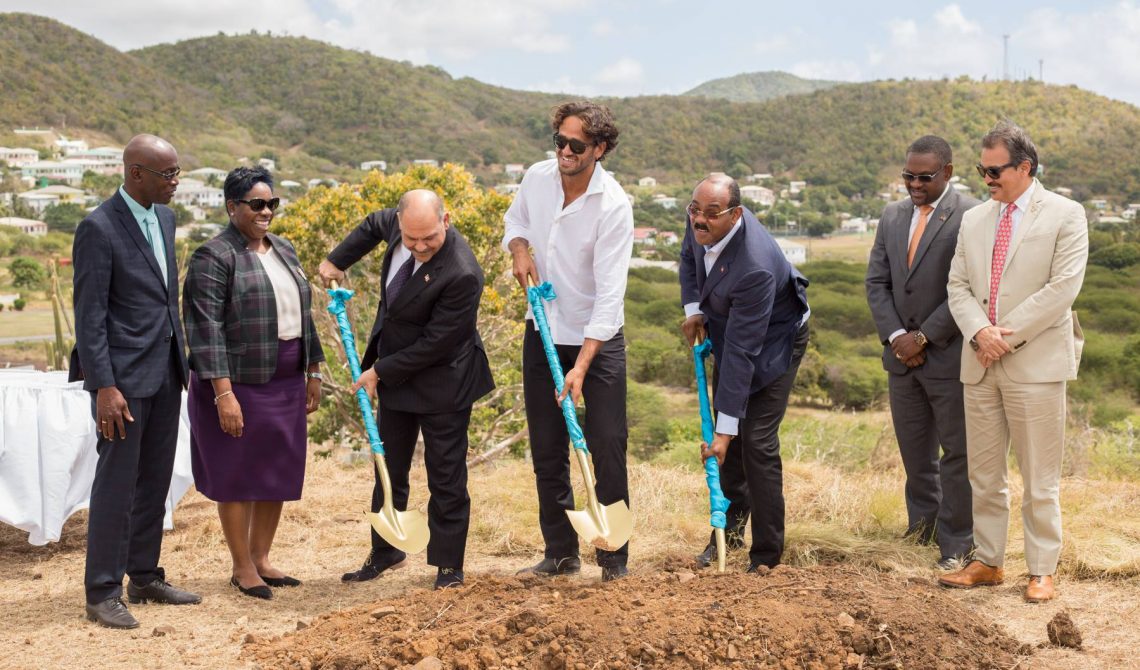 Mr. Dawood Shah Snr. Vice President Business Development: Al Caribi Antigua Development Limited, Other Representatives from Investment Partners: OBMI, RBC, HVS, and Rider Levett Bucknall, Esteemed partners and guests, Members of the media
Good morning ladies and gentleman, and a warm welcome to all.
It is an incredible honor for me to be participating in this landmark groundbreaking ceremony both for Antigua and Barbuda, and Al Caribi Antigua Development Limited. This is the first ground breaking ceremony for Al Caribi Antigua – a joint venture between Sheik Tariq Al Qassemi of Dubai and the Government of Antigua and Barbuda and a moment worthy of celebration.
This administration has been laser focused since taking office just over two years ago, on seeking new investments to grow the tourism industry in a sustainable manner. The Al Caribi Antigua Development joint venture is just one way that we are successfully doing this.
Callaloo Cay will lead to increasing the room availability, and broadening our twin-island nations portfolio of distinguished properties. Increasing the room availability – in a sustainable manner and representing a quality that matches the standard of Antigua and Barbuda – is of utmost distinction and importance.
As an administration and country, we are on a powerful and positive path towards strengthening our tourism industry and creating the climate for the growth of investment in our country.  This new tourism project takes us another step closer to realizing our vision of becoming the economic powerhouse of the Region. As the tagline of Calloo Cay promises: "A world of prestige on the horizon".
The purpose for our focus and vision is that the growth and future of tourism represents the future of our nation. Travel and tourism directly impacts the economic and social development of our country: it opens us up for business, trade and capital investment, and very importantly, for our people, it creates jobs and entrepreneurial opportunities for the workforce and celebrates our heritage and cultural values.
This administration has set the goal of increasing the room capacity of Antigua and Barbuda to over 5,000 within the next 18-24 months. Callaloo Cay is certainly helping us meet this goal. Their focus on driving high-end year-round tourism to our country and boosting hotel room stock is one that fits right into our goals as an Administration, so we could not have asked for better partners in tourism than Sheik Tariq Faisal Al Qassemi of Dubai and OBMI, RBC, HVS and Rider Levett Bucknall.
We would not be here today without the vision and investment of Sheik Tariq Faisal Al Qassemi, as well as the expertise and knowledge of our partners, and developers.  I would like to thank and congratulate Sheik Traiq and his representative Mr. Dawood Shah for the confidence that they have shown in Antigua and Barbuda and the ABLP Government led by the Hon Gaston Browne and for this significant investment in our tourism product and the future of our country.
When one looks at similar 5 star hotel projects such as the Palazzo Versace Dubai a true Neoclassical masterpiece developed by Sheik Traiq in his native Dubai, you can rest assured that Antigua and Barbuda has partnered with the best!
In that Dubai property every single piece of furniture and fabric that adorns the hotel's 215 hotel rooms and suites and 169 residences, is designed and tailor-made by the House of Versace exclusively for the Palazzo Versace Hotel!
Ladies and gentlemen, if that is the yardstick, for Callaloo Cay then we are looking at a resort of unsurpassed luxury and quality and one that will cater to that lucrative luxury sector of our market that ensures a high return on tourism investments.
This means more tax revenue, for our country and higher paying jobs with better opportunities for the hundreds of citizens and residents that will be employed at Callaloo Cay.
Callaloo Cay is a project focused on benefitting the community, environment and investors. It will be a luxury five-star hotel with 95-100 rooms and 40 villas with a world-class spa, a trend-setting beach club and several waterside-dining concepts along the sheltered cove over 32 acres.
Something I am particularly excited about is that simultaneous to the development of this amazing property will be the development of a National park across 5 acres that will be for local residents and guests.
This is not just a project for visitors – we are excited about our residents benefitting from our investment in construction. This National Park is not only a preservation project but a future resource for everyone. Improving our nation and the lives of our residents is always this Administration's top priority.
Indeed Callaloo Cay will be located in the southwestern quadrant of the island, which has been designated as our "Green Corridor". This Green Corridor project is marketing and branding campaign geared toward the businesses in this area of Antigua. It will encourage our ever-growing sustainability minded residents and travelers to visit this area for the Green hotels, local food and craft businesses. This new resort with its accompanying National Park will compliment this initiative along with another 17 different properties and businesses who are part of the Green Corridor initiative.
For this forward thinking focus on sustainability the developers of Callaloo Cay are to be highly commended.
Ladies and Gentlemen sustainability and protection of our land and environment is also of utmost importance to the Government, and so we are delighted to know that the construction will be done through sound preservation principles, green building design and engagement with the local community.
We have been transparent with the local community, hosting public forums to keep those in the Morris Bay Beach community, Old Road and beyond informed of all aspects of the project. These positive interactions have provided an opportunity for open dialogue and feedback.
We are confident that opening this new modern and luxurious property, offering the best in services, and introducing it to our portfolio will lead to increased airlift, from all our main visitor source markets.
The design and construction will highlight what separates Antigua and Barbuda from the competition: providing lush tropical gardens and immersing guests in a luxurious beach and pool environment. Of course, as a true escapist property the construction adheres to the cardinal rule: No buildings taller than a coconut tree!
This is sustainability at its finest and Callaloo Cay will truly capture the peace, tranquility and history of our wonderful twin-island nation.
In summary Callaloo Cay is the culmination of an unrivalled collaboration between the Government of Antigua & Barbuda and world-renowned developers with a wealth of international experience and an impressive portfolio of luxury projects.
Amongst the international team of experts are global leaders in architectural design, OBMI along with leading tax, audit and financial advisory professionals KPMG.
Spearheaded by first class specialists, designers and operator, the development assures a sound investment that will accrue benefits to the Government and people of our beloved country.
Callaloo Cay is indeed a prestigious opportunity on the horizon and will be completed by the end of 2020. During construction it will represent over 180 jobs and hundreds more once the property is open – representing a bountiful new source of employment for the people of Antigua and Barbuda.
Ladies and Gentlemen we wish the developers every success as they commence construction and I am confident this is only the first step in the success of this wonderful project.
I look forward with expectancy to participating in the grand formal opening of the impressive Callaloo Cay in the near future, as we add another jewel to our crown of first class hotel accommodations!
Mr. PM I crave your indulgence before I close to set the record straight with a few facts. It is important that I do so.
Contrary to the fiction that has taken possession of the leadership of the UPP, the people of Antigua and Barbuda would have just heard me deliver a comprehensive account of this new project at Callaloo Cay the inroads and tremendous progress that we have and are making.
We have been both pragmatic and strategic in our planning and execution of the several initiatives that are already reaping tremendous rewards for the people of Antigua and Barbuda. Real has been the results of our efforts, and unwavering has been the commitment to bringing prosperity to the shores of this twin-island paradise.
Under the astute and visionary leadership of the Honourable Prime Minister, the Cabinet and those public servants all working for the good of nation and in the interest of the people have been steadfast in focus.
From today onwards, we must be even more vigilant and resilient to the distasteful and acidic accusations being manufactured by the (UPP). Through distracting mouthpieces, the UPP has been a purveyor of divisiveness. Rather than help to create a progressive society, the leadership of the UPP has been busy defacing this nation's reputation.
We invariably reap what we sow and those sowing seeds of destruction will be punished for their lies and wolf-cries of corruption. The detractors will be cast into the political sea of forgetfulness to be remembered no more.
Pray tell me, why is it that a majority of the local population is experiencing better today than compared with three or five years ago? Why is it that regional and international institutions and persons can speak about destination Antigua in glowing terms, and commend the work of the Gaston Browne Government and several of its officials? How did this twin-isle paradise achieve its many accolades despite the UPP naysayers daily spouting the dangerous rhetoric of gloom and doom?
The answer is simple. The UPP hardly did anything to improve the livelihoods of the Antigua and Barbuda people, and will stop at nothing to see the back of the ABLP, even if the virulent talk destroys the country's reputation and the good work and steady progress that has been made.
God is good and has been good to us I am confident that based on our work, and the performances to match the promises we made going into the 2014 general election, Antiguans and Barbudans in large numbers will let the UPP know that enough is enough. The Almighty God will be the refuge of the Antiguan and Barbudan People and our beloved country.
Long live this political party and Prime Minister whose impetus for working on behalf of all the people is given gravitas because of the life and service to this country from the National Hero, His Excellency the Right Honourable Sir Vere Cornwall Bird.
Locally, most persons are tasting the sweets of their labour for the first time in years. Tourism will continue to reap benefits that far surpass anything the UPP would have hoped for. Jobs are returning to the people, as job creation remains a priority. The visitors are coming, not only because safety and stability are core areas of our policy framework, but also because we have been strategic in the entire process of getting visitors to come to Antigua and Barbuda and enjoy all that we offer, especially the wonderful hospitality of our people.
Gaston Browne has been elected to lead this Government and by extension the people of Antigua and Barbuda. He shall continue doing just that with every ounce of strength that he has in his body.
The Gospel of John, Chapter 14, verse 27 offers a fitting conclusion to my contribution. Like John, I say to Antigua and Barbuda, "Peace I leave with you; my peace I give you. I do not give to you as the world gives. Do not let your hearts be troubled and do not be afraid."
The year 2017 is anticipated to be another bumper year for tourism and for expanding our sustainable development. I am confidently optimistic of the benefits that will redound to this society.
With the purpose to provide bountifully for Antigua and Barbuda, and the determination to succeed, I shall continue to do all that is expected of me given my ministerial portfolios and the stated policy objectives.
So I wish to commend and thank the developers Sheik Tariq Al Quassemi of Dubai and his investment partners and wish them every success with this most worthy and important hotel project.