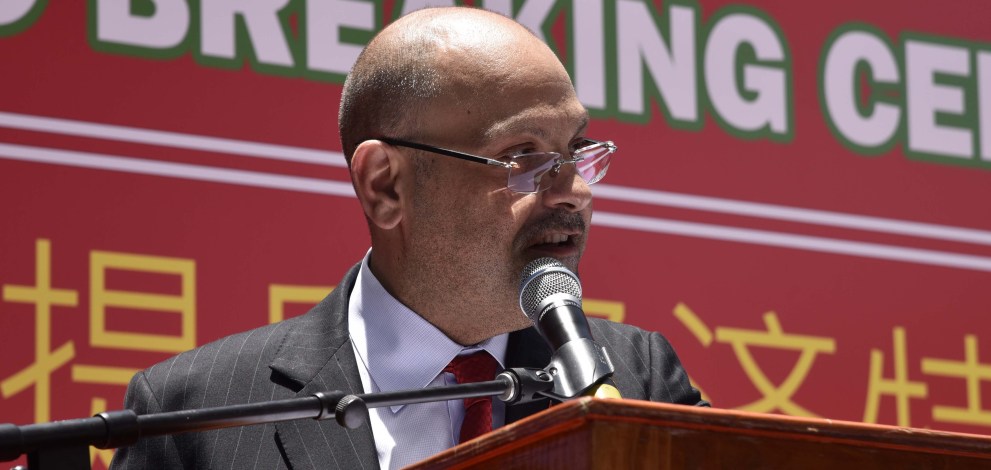 "What is the hurry?" This question was asked of Prime Minister Gaston Browne mere hours following his swearing-in ceremony at Government House on the morning of June 13, 2014. What is the hurry? It was a question asked because a Memorandum of Understanding was negotiated within hours of ascending to the exalted post of Prime Minister of Antigua and Barbuda.
More investments, more jobs and lower taxes had been the mantra of the Antigua and Barbuda labour Party throughout the election campaign in the months prior, and the leaders of the Party meant every word of it. We knew that months would pass between signing a Memorandum of Understanding and having a backhoe dig the first foundation. We had no time to spend dilly-dallying. Time is of the essence.
It was China's great philosopher, Confucius that said, "In a country well governed, poverty is something to be ashamed of". It is with Confucius' great wisdom in mind – – and our great pride in our country's advancing policies to develop through broad partnerships a wealthy, creative and progressive nation – – that I address you as part of this Groundbreaking Ceremony for Yida International Investment Group's Antigua Special Economic Zone.
Tourism Minister Asot Michael signs and Agreement with Yida's President Zhang
I am confident that The Antigua Special Economic Zone will become an engine for economic growth and will strengthen linkages in our local service economy. This is development at the national level, and the country and the Zone shall work together to ensure that benefits reach every local business, every family and every child in Antigua and Barbuda because our government adheres to Confucius' philosophy so, "this is a country well governed".
I want to congratulate the YIDA Group and the Prime Minister for moving swiftly as you set about to create thousands of new jobs and to develop a part of Antigua that has remained outside of the economic boundaries of our fair land. Lawsuits intended to jettison development and to slow the pace of progress shall not deter this Labour Party administration. Let the dogs bark, VC Bird Snr. used to say, but the ABLP wagon keeps moving on.
Tourism Minister Asot Michael with Yida International's President Zhang
The plans for our development take into account the fragility of our environment and the attractiveness of that environment to tourism development in the first instance. When fewer than 25 mangrove plants are moved to allow for a pontoon bridge to be re-established—so that supplies can reach an island—that is not evidence of wrongdoing.
The plans revealed by the YIDA Group to turn an under-utilized piece of valuable real estate into a venue for generating thousands of jobs, does not involve harm to the eco-environment. I congratulate the YIDA Group for taking into account the high regard which this administration displays for both the environment and job creation. They are twin pillars of our development agenda.
Ladies and Gentlemen:
The Guiana Island project will enlarge the number of hotel rooms, but it will be much more than a hotel. Making Antigua a hub for the YIDA Group's strategy of growing its investments in the Americas, will mean more office space, more cargo and traffic, more jobs for our youth, and more economic activity following years of economic decline.
We are in a hurry. While the grass grows, this administration must keep the horse from starving. We are engaged in a greening and cleaning campaign, employing hundreds of workers in beautifying Antigua. A country that is tourism-dependent must pay very close attention to the aesthetics. We undertake this investment in beautification for the benefit of residents and tourists alike.
The YIDA Group brings the high level of appreciation for beauty and elegance that is so very much on display in the great historic city of Beijing. Our aim is to make Antigua and Barbuda places of outstanding beauty, charm and elegance. The YIDA Group understands the need for this significant element in business and pleasure.
I therefore join in pledging the full support of the Ministry of Tourism in this drive to expand the offerings to our visitors. As the Minister responsible for energy, I also applaud the YIDA Group for its planned reliance on a lot of solar power. The faith placed in Antigua and Barbuda, its government and its people is justifiable.
You will find eagerness, cooperation, willingness and support at every juncture during the execution of this project. The YIDA Group has made a wise choice. We applaud you.
The Antigua Special Economic Zone is designed to provide fiscal incentives to facilitate the business operations of investors within designated areas. It will foster Antigua and Barbuda's national economic development and lead to prosperity and improvement of people's living standards, inside and outside of the Zone.
Simplicity, speed and smooth transactions are important aspects that many
Investors consider in making business decisions. It is for these reasons that we have established this Zone. Through the Cabinet and Parliament of Antigua and Barbuda, the 2015 Antigua Special Economic Act shall be legislated and passed. It will provide for drastic simplification of procedures, approvals, clearance and documentation of investment-related matters.
The Antigua Special Economic Zone will be a model for efficiency and success and will be managed by a highly competent team that is committed to facilitating investment activity on behalf of Antigua and Barbuda. A team of individuals has been selected to administer policy incentives and resolved issues by replacing "red tape bureaucracy" with "red carpet treatment".
We have set forth several growth and policy objectives for the Yida International Investment Group's Antigua Special Economic Zone as follows: Increased trade and export up to USD 40 million per year Growth of investment up to USD 300 million per year Long-term job creation up to 1,320 jobs per year Local businesses revenue generation up to USD 450 million per year National income diversification up to USD 660 million per year All this will lead to the creation of an Economic Tiger that will be the powerhouse of the region and transform the destiny of our country.
The Government of Antigua and Barbuda is encouraged by the USD$ 70 million paid so far by Yida International to bring the project to this stage. It demonstrates your commitment that this is not just a groundbreaking ceremony, but also the actual commencement of construction in May 2015. The first phase of development will include a high-end ocean-front and beach-front villa community with construction of the first internationally branded resort all starting before the end of this year 2015…
Ladies and gentlemen the entire development includes Antigua's Guiana Island and surrounding areas with 2 five-star hotels, 1,300 residential units, a casino and conference centre, a 27-hole signature golf course, a marina along with a commercial/retail/sports facility.
My charge to Mr. Yida Zhang and his team is that this is the phase that we are all looking forward to. It is this phase that will provide thousands of jobs for our people and generate significant economic activity in Antigua and Barbuda. This must therefore be executed, speedily, efficiently and in an environmentally sustainable manner to the benefit of all our stakeholders.
It is therefore important that all investors to Antigua and Barbuda realize that as construction commences on any project we have resident here all the skills and human resource capacity that are essential to the success of any business venture.
With that in mind we look forward to opportunities being made available to our people and to local businesses. I make particularly reference to the residents of the adjacent communities of the St Peters constituency to whom I have the honour of representing in parliament.
A quick conclusion of the construction and the grand opening in the near future will see the addition of thousands of high quality rooms to augment our tourism plant. It is with this in mind that we look forward with anticipation to the project's completion, which will take tourism in Antigua and Barbuda to the next level.
I can't think of an environment that is as blessed as ours, with beautiful beaches and guaranteed sunshine that would provide a more suitable business friendly environment and platform for global investors to conduct business and manage their wealth, than the Antigua Special Economic Zone, with the signature development That will now commence.
Ladies and Gentlemen what we are celebrating today is another example of the commitment given by the ABLP administration to keep the promises that have been made to our people. The sacred promise that we make today is not just to be ashamed of poverty as Confucius articulated, but also to go a step further and to eradicate poverty from our shores.
Our promise to our beloved nation of Antigua and Barbuda is that we will govern in such a way that will positively transform the lives of our people and safeguard their future for generations to come.
So on behalf of our Government and our God-blessed nation of Antigua and Barbuda, we officially offer our sincere appreciation to Yida International Investment Group for their investment into the Antigua Special Economic Zone.
We wish the Group unparalleled success with its investment projects in Antigua and Barbuda!
May the historic spirit of our Antigua and Barbuda forebears go with you. In the words of James Weldon Johnson:
We have come, over a way that with tears has been watered;
We have come treading our path through the blood of the slaughtered;
Out from the gloomy past, 'til now we stand at last, Where the bright gleam of our new star is cast.
Thank you, YIDA. May the God of our forebears bless you. May prosperity and joy mark the continuous path upon which we have embarked, today.