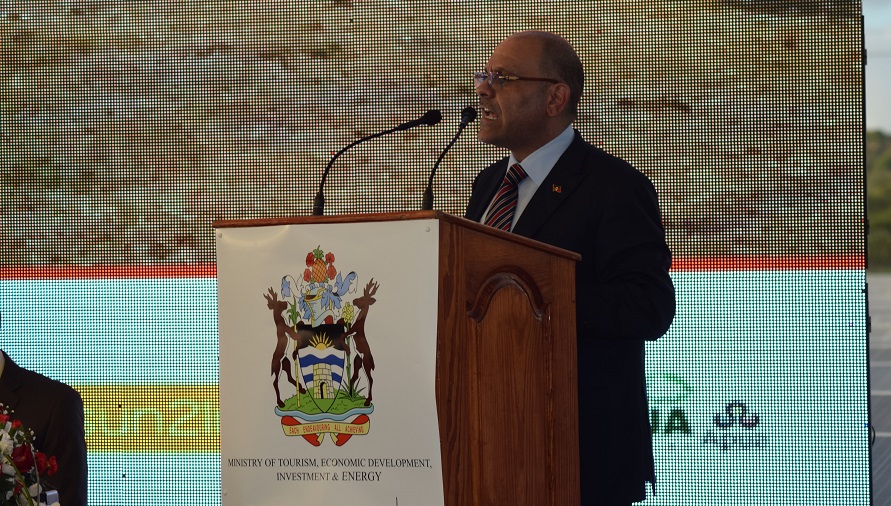 Your Excellency Mr. Khalid Al Mannaei: Director of Commercial and Government Relations Office of the Minister of State, United Arab Emirates, Your Excellences Ambassadors E. Casroy James and Diane Black-Layne, Honourable H. Charles Fernandez Minister of Foreign Affairs, International Trade and Immigration, Honourable Sir Robin Yearwood, KCGN Minister of Public Utilities, Civil Aviation and Transportation Honorable
Honourable Molwyn Joseph Minister of Health and the Environment
Senator Mary Claire Hurst
Mr. Trevor Chong: Vice President, Route Planning and Economics, Emirates Airlines
Mr. Hassan Mattar Hassan: Senior Operations Manager, DP World
Mr. John Caruso: Renewable Energy Expert, MASDAR
Other Government Officials
Ladies and Gentlemen,
On behalf of the entire Ministry of Tourism, Economic Development, Investment, and Energy we are delighted to have such a prestigious delegation from the United Arab Emirates with us. Please also allow me to also extend a very warm welcome to our beautiful twin islands. It is indeed a pleasure to have you with us.
The strong friendship and alliance for cooperation that has developed between our two countries Antigua and Barbuda and the United Arab Emirates has been remarkable for the progress made in such a short period of time. This friendship has been one birthed in mutual respect with a strong emphasis on bilateral cooperation.
I am particularly elated at the presence of a senior executive of Emirates Airlines in the person of Mr. Trevor Chong as it signals a major move forward in the hard work and efforts previously made by the Ministry of Tourism and Aviation in attracting this flagship carrier to our shores.  We truly hope that your visit with us over the next two days will further convince you that Antigua and Barbuda has all the necessary technical and operational facilities required to position us as one the best destinations in the region to accommodate Emirates Airlines as you expand your network operations to the Americas.
With the region's newest and most modern Airport, Antigua and Barbuda's growth is being driven by a rapidly growing tourism Industry, which is being fuelled by the Foreign Direct Investment in our tourism infrastructure.
We know that you will leave fully satisfied that Antigua and Barbuda is not just the best fit, but also the right for Emirates Airlines.
Sir V.C Bird international Airport was recently voted the 2nd best in the entire Caribbean Region. It has been expanded to cater for up to 2 million passengers with the most state the art facilities. Our new terminal offers a vast portfolio of services, technology and amenities that cannot be found elsewhere throughout the region.
We have at our airport such modern amenities as Jet Bridges, Automated Check in Kiosks and the most modern baggage handling and screening facility in the entire region.
With increased immigration positions and processes we have drastically reduced the passenger processing time.
With multiple VIP and Executive lounges, those Emirate Airline passengers travelling in premium cabins can be assured of a first class arrival and departure experience.   In summary are ready for the inaugural flight of Emirates Airline.
In the area of energy, Antigua and Barbuda is moving towards achieving a green economy in which renewable energy and energy efficiency are at the forefront of this Government's policies, in reducing our dependence on fossil fuels.
In all of our efforts at shaping a green economy and addressing our energy security, we are seeking to reduce costs in business, improve climatic impacts and otherwise align this country with global strategies for acquiring clean energy.
Your Excellency, your country has done remarkably well in the practice of green economics and sustainable development. We envisage that through these extremely warm and cordial bilateral relations, and the synergies and linkages that we have formed, that the United Arab Emirates will play a major role in helping Antigua and Barbuda to attain its energy security objectives.
We are confident that with your investment inputs to Antigua and Barbuda, and the practical steps that this Government is making under the leadership of the Hon Prime Minister Gaston Browne that we will continue to realise the margins of success. The end result will be substantial increases in efficiency and productivity in every facet of our local economy.
Your Excellency, this also brings me to draw tighter bonds between our countries as it relates to Tourism investment, which is the major contributor to our GDP.
While I have the distinct honour to drive the policy agenda of our Government's tourism policy, it would be remiss of me not to suggest that there are many opportunities available in the tourist industry through which we can attain mutual gains.
The existing opportunities here in Antigua and Barbuda revolve around our Citizenship by Investment program, which is rated as one of the best of its kind in the world, and by establishing cultural exchanges, which will foster cooperation between our countries.
Other major opportunities lie with investing in the construction of hotels and other major tourism facilities such as the flagship Calaloo Cay at Morris Bay, which is being undertaken by His Excellency Sheik Tariq Faisal Alqassemi of Dubai. This 5 star 150 rooms luxury hotel project valued at US $120M will significantly have a positive impact on the tourism product in our country. In the spirit of true corporate responsibility, this project will also include a Public National Park for local residents.
These are exciting times in Antigua and Barbuda and we stand ready to explore several public-private partnerships across a range of developmental industries.
We realise that you have a very packed itinerary while on island, but I am particularly pleased that you will be taking some down time before you leave to explore our beautiful country and see for yourself why the "Beach is just the Beginning." We have in store for you a breath-taking and exciting tour that will have you taking home only warm and pleasant memories of your time spent with us in Antigua and Barbuda.
Antigua and Barbuda is known the world over for its friendly people, and its hospitality, and our home will truly be your home for the next two days.
So in the true spirit of brotherhood and cooperation we extend best wishes for a productive visit while you, meet for your planned discussions and deliberations with the various technical teams. We look forward to the positive outcomes in all areas under consideration, and to further strengthening the bonds between our two nations.
Thank you