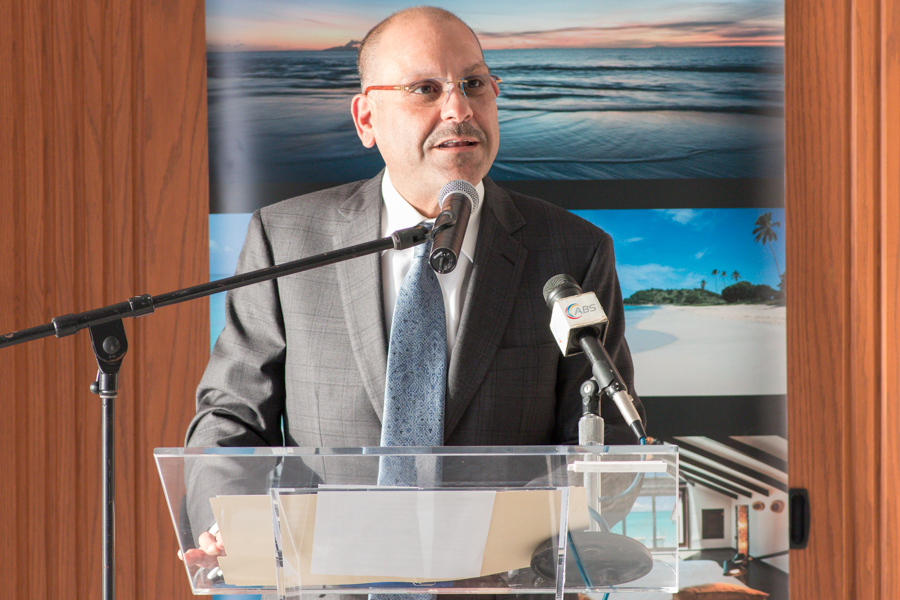 Captain Donato, of The Carnival Fascination
Mr. Darwin Telemaque CEO of the Antigua and Barbuda Port Authority
Mr. Colin C. James, CEO, Antigua and Barbuda Tourism Authority
It is a privilege and honour to be here today to welcome the Captain and guests of the Carnival Fascination.
It is hard to believe that it is only been 10 days since Hurricane Irma, leaving our twin-island nation changed. We are blessed that Antigua suffered minor damage, and we are devastated about the damage and destruction of Barbuda.
While it is difficult to put into words the feelings of loss for the destruction that took place in Barbuda, it gives me so much joy and pride at what has taken place in the last 10 days to provide support and relief to our Barbudan brothers and sisters.
Antiguans and Barbudans from not only here, but around the world, have come together to begin providing aid through goods and financial donations. We especially would like to thank Carnival Corporation for being the first Cruise line to make contact with us in offering their support and tangible assistance
Indeed this will go a long way toward helping the 1,600 Barbudans who are currently displaced and relocated to Antigua. The relief supplies that you will bring will also be critical to the rebuilding process in the next few months and we are indeed appreciative.
We have been blessed as aid, relief and support have been coming in from around the world.
On Monday, the United States Agency for International Development's Office of US Foreign Disaster Assistance (USAID/OFDA) have joined forces with Antigua and Barbuda's National Office of Disaster Services, to help assist those displaced. The 5-person team will allow closer collaboration between the agencies to assess the needs we have on the ground, and help NODS in the response coordination. They have also brought with them a donation of $100,000 from the US Government to the Red Cross for further assistance.
The Government of Venezuela – our wonderful partners – have sent us two aircraft to use, filled with relief supplies, and will help us transport building supplies to help us quickly begin rebuilding the homes and schools and hospital and medical services that are so important to Barbuda. They have been integral in helping us in our relief efforts – and we cannot thank them enough. They arrived almost immediately with their much-needed supplies. They have been an absolute godsend to us as a nation.
I would like to thank Captain Donato and Carnival Cruise lines who by their call today to the port of St Johns, has sent the signal loud and clear that we are indeed open for business. We thank you for your visit today with over 3,000 passengers who by their visit to Antigua will be contributing towards the first steps of rebuilding Barbuda.
On behalf of the people and the Government and people of Antigua and Barbuda, I would like to thank Carnival Cruise Lines for their support for our destination and the endorsement of our cruise facilities here in the Port of St Johns. You call today and those that are scheduled for the upcoming season will make the world of a difference.
The outpouring of love, support, and overall unity from our cruise line partners and people all over the world has bolstered the strength of the people of Antigua and Barbuda.
So on behalf of the Government and People of Antigua and Barbuda we extend a warm welcome to all your guests. We give you our commitment that we will make their experience here today in Antigua a most memorable one.
Thank you all again
-Ends-