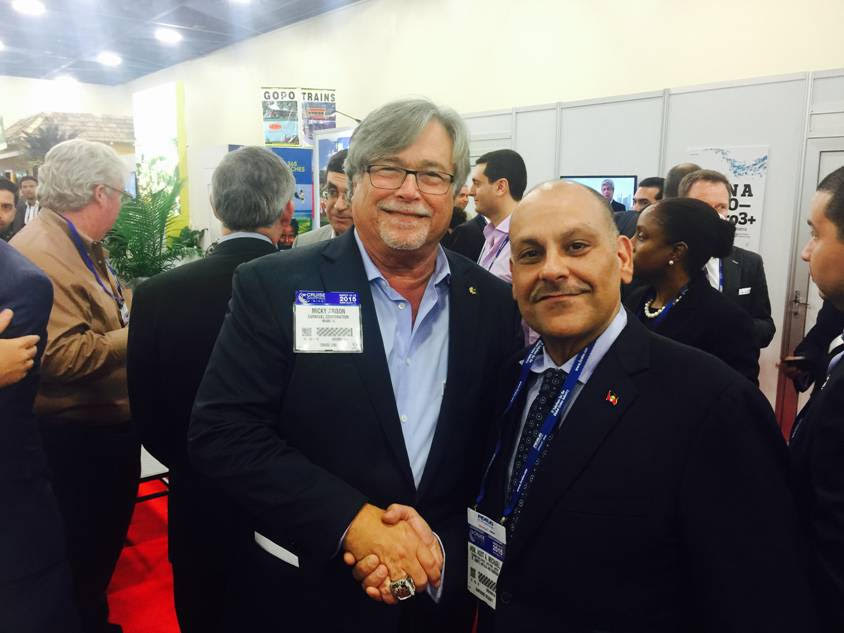 (Miami, Florida) – Antigua and Barbuda Tourism officials continue their relentless efforts to negotiate for more cruise calls.   They successfully showcased the attributes and attractions of the destination, at Cruise Shipping Miami 2015. The annual event held from March 16 – 19 is the largest gathering of Cruise Tourism Officials in North America.
The Delegation headed by the Hon Asot A. Michael Minister of Tourism, Economic Development, Investment and Energy included Senator Mary-Claire Hurst Chairperson of the Antigua Port Authority, General Manager Darwin Telemaque and Ms. Shirlene Nibbs Tourism Consultant in the Ministry of Tourism who has been tasked with redefining and revitalisng all aspects of the country's tourism product, and sharing initiatives that have been planned in this area.
Coming out of the meetings, Tourism Minister, The Hon. Asot Michael said: "I am buoyed by the positive feedback from all our cruise line partners that, we now understand their business. There is now a renewed confidence in our product and the improvements that we can now offer. What we have started this year will translate into even more ship calls in the near future."
The destination booth was a hub of activity and sported a completely new design, which reflected an attractive kaleidoscope of iconic authentic Antigua and Barbuda images. These images were set against a backdrop comprising the vibrant colours of the National Flag made for a very welcoming and attractive display of the country's beauty.
This bold look received very positive reviews from exhibition visitors and cruise industry partners. The new look is in keeping with the fresh and bold initiatives that the destination has made in recent months, in actively addressing long-standing infrastructural and product issues that had negatively plagued the local cruise industry in previous years.
A series of packed agenda meetings were held over the first two days with every major cruise line in attendance at CSM.
Tourism officials gave a detailed update to each cruise line on several areas, most important of which was the good news that the dredging of the harbour, which commenced on February 17 would be completed on March 22 well ahead of schedule, as against the original completion date of March 31.  Preliminary hydrographic drawings were shared with cruise line partners to show the new depths at the Nevis Street Pier now at an average of 9.5 meters, which is now even better than its original level of 9.1 meters.  Water levels at the Heritage Quay Pier are now at an average of over 11 meters, which is more than adequate to accommodate the new larger ships being built today.  All new harbour lights and navigational aids adjacent to the turning basin will be in place within days of completion of the dredging works.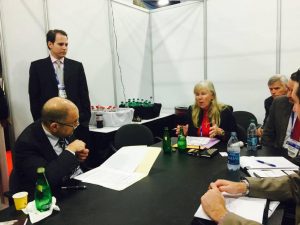 This is positive news for the cruise lines as it means ships can stay in port even longer on cruise ship days to maximise the visitor spend. The overall reaction by all the cruise lines to the positive news of the dredging was overwhelming. Cruise Line Executives, thanked Minister Michael and his team, for the major and professional strides made in such a short period of time. One cruise executive noted that the destination has demonstrated in a very tangible way that "Antigua and Barbuda understands and cares about our business, and is walking the talk"
In a high-powered meeting with the extremely influential operations committee of the Florida Caribbean Cruise Association (FCCA) chaired by Michele Paige, Minister Michael used the opportunity to present a personal letter from the Hon. Prime Minister Gaston Browne. This letter pledged the support of the new ABLP government to build on the partnership with the cruise industry to take the country's sector to a new level.
Other areas discussed included the CDF Caribbean Development Fund, which has provided US$1.7M for improving the landside facilities adjacent to the cruise ports. This will be supplemented by an additional US$8M to upgrade the entire City of St Johns. Leon Sutcliffe Carnival's Director of Port Operations commented that the poor state of St John's was constantly a core part of the feedback from their guests and they are happy that we are now responding. He highlighted that it is critical that these product issues are rectified, as feedback from their customers' experience is used by all cruise lines in their itinerary planning. He further commented that Antigua's ranking had improved from a low of 26 among 30 regional ports from last October 2014 to number 17 out of 30 at their most recent survey.
The cruise lines were also updated on plans to secure US$200M from China's EXIM Bank for a complete development of the entire St John's Harbour area from Heritage Quay to the Deep Water Cargo Facility. The Cruise lines also learned of the Government's plans to acquire WIOC, which will be upgraded with additional storage tanks. This development will allow the destination to offer bunkering services. This is something of keen interest to all of the cruise lines.
Tourism Minister the Hon Asot A Michael commented that "the improvements we are now seeing are very encouraging, but we cannot be complacent. There is still a lot to be done to restore Antigua and Barbuda to its once enviable Marque status as a Premier Caribbean Cruise Destination."
Cruise shipping Miami is the epicenter of the global cruise industry and the only business to business event guaranteed to bring together every facet of the business with nearly 900 exhibitors and over 11,000 attendees from 125 countries. The conference content also featured the industry's most knowledgeable speakers, with the State of the Industry plenary sessions. Antigua and Barbuda is forecasted to have a bumper cruise season for 2014/15 with an estimated arrival of over 700,000 cruise passengers. This represents a 15% increase to 297 ship calls and an estimated 20% increase in cruise passenger arrivals.