ABLP DELIVERED THE END TO THE UPP WATER DROUGHT
Poor management, lack of planning and malfeasance all contributed to the people of Antigua and Barbuda being deprived of water for household purposes, for sanitation and for growing food. The UPP regime had virtually abandoned its responsibility to supply water and surrendered it to a private company, SEMBCORP Antigua Water Ltd, which was determined to cut off supplies to the entire country, because the UPP administration owed more than $22 million and offered no repayment plan.
The ABLP:
extinguished SEMBCORP's $22 million arrears;
absorbed SEMBCORP into the Antigua Public Utilities authority;
turned the people of Antigua and Barbuda from debtors into owners;
invested another $25 million in reverse osmosis technology and capacity to meet all the country's water needs.
started the ongoing process of replacing old and defective pipes in the water distribution system to provide all households with reliable water supply in the coming year.
THE ABLP PROVIDED HOMES FOR THE PEOPLE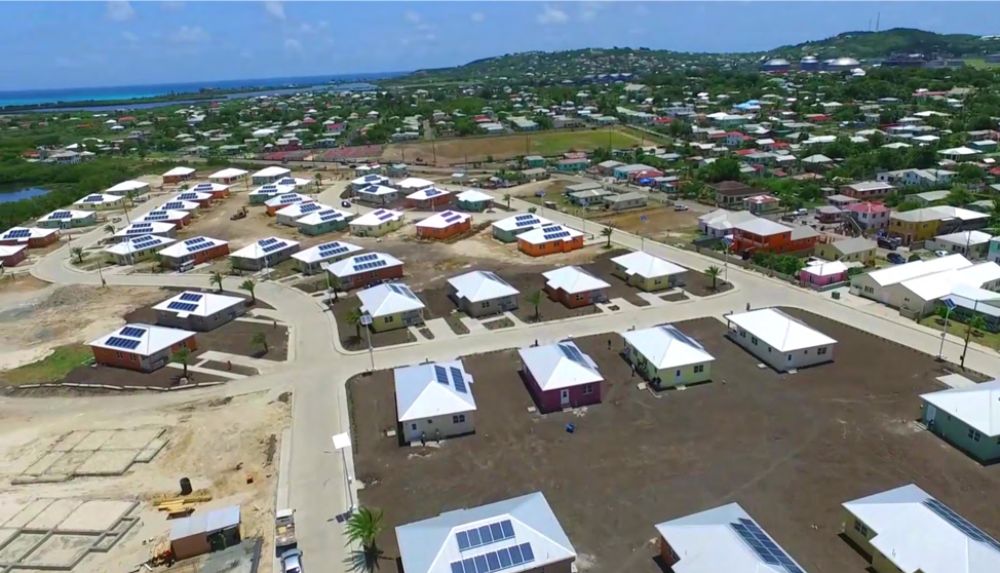 The ABLP said in its manifesto for the June 2014 general elections that it would provide 500 homes. However, at the time, the full extent of the UPP's maladministration and malfeasance was not clearly known. The situation was much worse than was envisaged. The Treasury was empty, and the demands were plenty.
Nonetheless, amid all the challenges that the ABLP government confronted and overcame, the ABLP has successfully put 360 homes under construction in less than four years at Dredge Bay, Paynters, Lightfoot and Denfieds (Cooks Extension).
We remain determined to fulfil our pledge to construct 200 more homes and even a greater number as we continue to grow the economy.
DELIVERING SUPERFAST BROADBAND: OPENING-UP THE WORLD
No country can become an economic powerhouse without modern high-speed data and voice communication and internet services. The ABLP is well aware of this truth. That is why we have invested in e-government and why Antigua and Barbuda is today the leading country in the 15-nation Caribbean Community (CARICOM) in electronic government services.
We know we have a farther way to go, and we intend to advance swiftly not only in e-government, but in the provision of superfast broadband for all, particularly banks, the Medical Universities now on our shores, our own Mount St. John's Medical Centre, tourism marketing and promotion, and to open-up the world to our creative young people to sell ideas and services globally.
We are also aware that the present generation of young people are internet and computer savvy in an unprecedented way and
they are keen to utilise super broadband to explore business opportunities.
That is why APUA has laid down high speed fibre optic cables and why a new 5G network has already been designed for installation. It is also why we have identified important submarine communication cables and reduced the cost of broadband internet provided by APUA to $75.00 per month for 10 megabits per second – the best price in the Eastern Caribbean.
Vision 2023 and Beyond
envisages the investment of $270 million in a joint venture between APUA (Telecoms) and other telecoms companies, including small local operators in Antigua and Barbuda, to deliver the Superfast Broadband that will catapult us ahead of the Caribbean.
Our people, our professionals, our small business, our medical specialists, our entrepreneur
and IT specialists, our offshore sectors and Tourism and education sectors, crime fighting and security, as well as competitiveness and growth will be greatly facilitated by this development.
Further, we will be able to attract new investment from companies, including global accounting firms and telemarketing companies, that wish to use our competitive tax base, our computer-literate young people, and broadband to conduct business worldwide.
Communications and internet- based business provides the most lucrative platform for enterprise development and new wealth creation and enhancement.
The ABLP is determined that Antigua and Barbuda will occupy a meaningful and competitive place for the provision of Information Technology Services in the world.