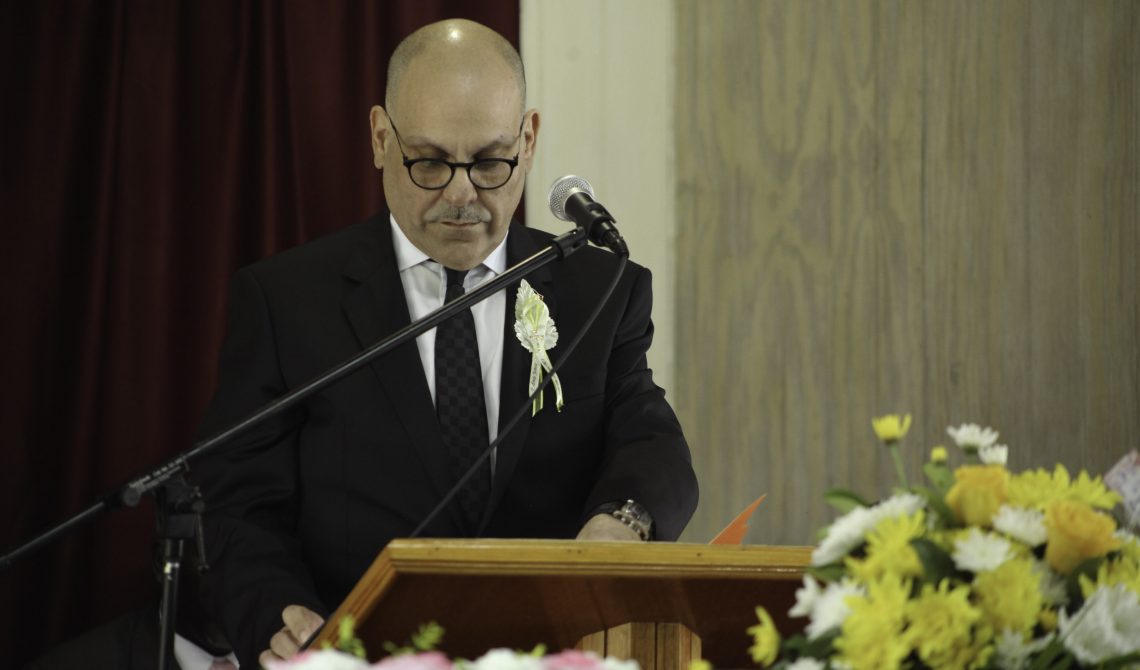 July 9, 2019, Parham:
Good afternoon Church.
HENVILLE "DEBBLE" DANIEL [January 4, 1944 — 75 YEARS] A man's life is defined, to great extent, by his values and his passions. Today we are honouring a great man –Henville Robert Daniel–aka Debble who was a fine son, father, uncle and dearest friend, a good provider and family man, and, as I'm sure many of you will agree, blessed with a quick wit and a mind as sharp as a whip.
I wish to express the sympathies of my family and of the entire Constituency of St. Peters to the family of Henville Daniel, as we prepare to bury his remains.
My Comrade was born on January 4, 1944; that is 26 days before Vere Cornwall Bird became the 2ndPresident of the Antigua Trades and Labour Union on January 30, 1944. My friend and supporter, Henville "Debble" Daniel, 75 years old at death, grew up with the AT&LU.
One could say that his baptism into the politics of change came shortly after his birth. The AT&LU became the instrumentality which brought our forebears out of poverty and oppression into the New Jerusalem. The most dramatic change in circumstances came to Antigua and Barbuda in February 1967, when my Comrade would have made his 23rdbirthday. Antigua and Barbuda celebrated "Statehood In Association" on February 27, 1967. Comrade Daniel would not yet have fathered his first child, for that occurred in 1970 when Duranie was born.
After 1968, and the split in the AT&LU, Comrade Daniel lent his support to the renegade trade unionists who defeated the Antigua Labour Party in 1971, he became a PLM supporter. But by 1976, my supporter and friend was back in the fold. He worked as security as the prime minister office for more than 10 years until he was sent home when the UPP took office in 2004.
He loved Lester Bryant Bird, and gave his full support to Comrade Bird's candidacy in 1976. He lived in Rural East, was registered to vote in Rural East, but his heart remained in Pares Village and Parham where he had been conceived by Lauriston Daniel and Bobsie Charles.
My baptism into elective politics came in 2004, when I was selected to replace Comrade Jeremy. My supporter and friend would campaign with me to get me elected in a year when the ALP lost the government. Despite our loss in 2004, the Comrade continued to be loyal to me and to the great institution created by the 1939ers.
In the ten years during the ABLP's period of opposition, Comrade Daniel, Debble, never moved away from the great institution that has managed the affairs of his country for decades. He gave of himself freely.
In the Book of Isaiah, Chapter 65: Verses 1 and 2: It is written:
"I was ready to be sought out by those who did not ask, to be found by those who did not seek me. I said, "Here I am, here I am," to a nation that did not call on my name. I held out my hand all day long to a rebellious people, who walk in a way that is not good, following their own devices."
 In 1970 he fathered his first child Duranie (now deceased) with then girlfriend Camelita Smithen in Parham Town. From that marvellous union he fathered another three children Jeron, Andy Daniel and Ann-Marie Daniel-Francis. Following that union Henville went on to father three additional children Valarie, Charles and Michael Daniel.
 My Comrade and friend was always ready to be sought out by those who did not ask. However, I sought him out and he sought after me. We worked closely together, raising the consciousness of those who would continue to support the heritage party that has given Antigua and Barbuda superb leadership, and un-paralleled development.
But life does not last forever. Males in Antigua and Barbuda have an average lifespan of 75 years. The good Comrade has lived his life. Yet, we are sad. We are sad because death is never well-understood. Our religion promises life after death. Our God promises to reward us with life eternal, earned by faith.
Khalil Gibran, one of my favourite poets, wrote the following about death:
Talk not of my departure with sighs in your heart;
Close your eyes and you will see me with you forevermore…
Go back to the joy of your dwellings and you will find there
That which death cannot remove from you and me.
 Debble loved his family as well. He was proud of his children. There was never a day when he stumbled on the path of caring for their interests.
We will miss him, but they will miss him more.
To them, we say he would wish you to celebrate his life, not suffer in his death. He would want you to acclaim the things he has done, not regret the things undone. He would want you to remember him, but in doing so, to live your lives to the fullest using as a guide to your own happiness.
And, so we salute this worthy son of the soil, this selfless scion of our land, this man with the easy style and the ready smile.
We send him in praise and thanksgiving to his maker and redeemer knowing well that no ill can now befall him and he is safe and secure in the bosom of his Lord.
Farewell, Henville "Debble" Daniel. Farewell. You have served your time, and you have served it well!
May the God who brought the ancestors of my supporter to these shores, and imbued them with endurance, take my Comrade's hand in the afterlife and guide him to that Kingdom in the sky. God bless you, Comrade. I thank you.