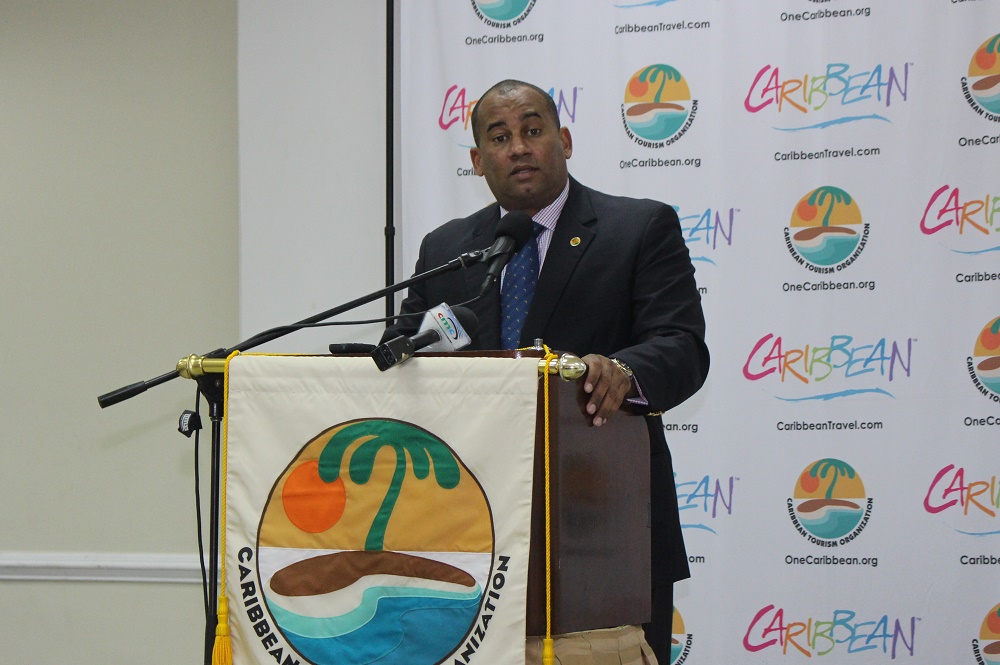 ST. JOHN'S, Antigua and Barbuda: Antigua and Barbuda's Tourism Minister the Hon. Asot Michael continues to receive commendations from his regional and international colleagues having been named Caribbean Tourism Minister of the Year, 2016 by the Travel publication, Caribbean Journal.
The most recent commendation comes from Tourism and International Transport Minister of Barbados and Former Chairman of the Caribbean Tourism Organization, the Honourable Richard L. Sealy.  In a letter, Minister Sealy congratulated Minister Michael and his team for their work in promoting Antigua and Barbuda to the world. 
"The recent award from Caribbean Journal speaks volumes of the intensity of the work you all are doing. You have impressed not only as a top Caribbean Destination but as a genuine Global Tourism player," stated Minister Sealy.
The Barbados Tourism Minister also stated that his country shares in Minister Michael's success as "a victory for him is a victory for the entire Caribbean."
In naming Minister Michael as recipient of this high recognition, the Journal's selectors declared that he is one of the Caribbean's forward-thinking Tourism Ministers who had driven Antigua and Barbuda's tourism growth.
The country's tourism growth this year has already exceeded last year's number by close to 10% with the end of year surge still to be calculated.   Arrivals from the US market alone has grown by 20%. Commendations have also come from Prime Minister the Hon. Gaston Browne and members of his Cabinet, Secretary General of the Caribbean Tourism Organization, Mr. Hugh Riley, CTO Chairman, the Hon. Obie Wilchombe, and the organization's Council of Ministers and the Commissioners of Tourism, and the Board of Directors.
Commenting on the messages of congratulations, Minister Michael said that he is further energized and prepared to continue working in the interest of Antigua and Barbuda. "While I am honoured at being named Caribbean Tourism Minister of the Year, I plan to build even more on the foundation that has been laid since July 2014.  The team that I lead, supported by my Cabinet colleagues will push further for improvement of our tourism product, for more investment in the industry by the private sector, and for a full embrace of the value of tourism to all our people".
The Minister declared that he was delighted that he and his Ministry "could deliver to all the stakeholders in the Antigua and Barbuda tourist industry, especially the people, a very handsome acknowledgement that hard work pays off".
The Caribbean Journal also named Antigua and Barbuda as Caribbean Tourism Destination of Year,  and Mr. Colin James as Tourism CEO of the Year.