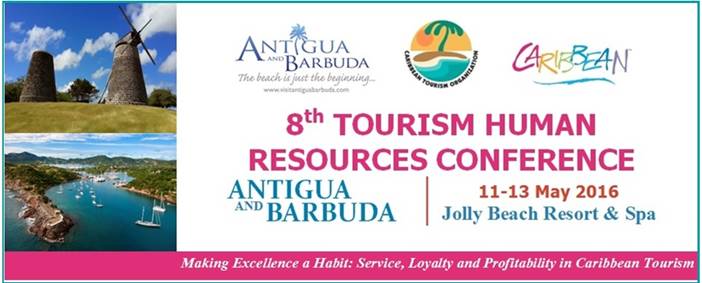 St. John's, Antigua and Barbuda: As Caribbean tourism rebounds, tourism practitioners within the region are making their next strategic move by focussing on enhancing the quality of their product, and developing a strong culture of service excellence.
The Secretary General of the Caribbean Tourism Organization, Hugh Riley and other well-known Caribbean tourism officials will meet in Antigua and Barbuda to address the theme 'Making Excellence a Habit: Service Loyalty and Profitability in Caribbean Tourism' at the Caribbean Tourism Organization's  8th annual Tourism Human Resources Conference, taking place from May 11 – 13, 2016.
Collaborators, the Antigua and Barbuda Ministry of Tourism, Economic Development, Investment & Energy, and the Antigua and Barbuda Tourism Authority, are voicing their support for the three day tourism gathering being held in Antigua for the first time.
Antigua and Barbuda Minister of Tourism, the Honourable Asot Michael, said, "We are committed to ensuring the well-rounded development of the tourism sector."
"In today's digital age of hi-speed internet, blogs and social media, ready access to information means travellers are more aware of their options when it comes to selecting and booking a flight, hotel, cruise, tour or otherwise.  They comparison shop, view reviews and rely heavily on shared feedback from past travellers before confirming bookings.
For our destinations to be successful, we must do more, to attract and meet the demands of the discerning traveller.  While glitz attracts, more often than not, it is the quality of service that guests receive, that remains of paramount importance to serious tourism industry stakeholders aiming to deliver exceptional tourism experiences, increase revenues, and secure repeat visitors."
The Caribbean Tourism Organization, the industry's leading body for Caribbean tourism development, has set out an intensive conference programme geared towards the pursuit of excellence in the region's growing tourism & hospitality sector.
"Visitors to the Caribbean, in their own quest for value for money and great experiences, have growing expectations of our businesses, and those businesses which provide excellent customer service in a constant and consistent manner are more likely to succeed.  It is imperative, therefore, that we pursue a culture of excellence for our survival, growth, competitiveness and overall success; our customers demand it, our businesses require it and our success depends on it," said Hugh Riley, CTO's Secretary General and Chief Executive Officer.
International and regionally acclaimed speakers, industry leaders and experts will cover topics such as, 'Driving Leadership and Organizational Excellence', 'Making Excellence a Habit' and 'Using Metrics effectively to Propel Business Performance'.
Tourism Master Classes led by John Burchell, Director of Hospitality Assured, and Andre Bello Commercial Manager, Virgin Atlantic, will show senior management and technical staff how they can improve their product, generate, and retain loyal customers.  Detailed discussions will allow participants to gain hours of valuable insight in the areas of: 'Seeking Excellence through Continuous Improvement – A Formula for Business Success' and, 'Increasing Customer & Brand Loyalty'.
The Antigua and Barbuda Tourism Minister will present the feature address at the conference opening, while Colin C. James, CEO of the Antigua and Barbuda Tourism Authority and Shirlene Nibbs, Tourism Consultant to the Antigua and Barbuda Ministry of Tourism and Managing Director of consultancy firm Nibbs & Associates, will join in leading panel discussions at the event.
Tourism practitioners, from both the public and private sectors, human resource professionals, tourism educators/trainers and consultants as well as tourism & hospitality students of tertiary institutions are expected to register for the conference where they will develop skills to meet the changing environment, and learn strategies and best practices from real Caribbean tourism industry experts, on areas and issues affecting the tourism and hospitality sectors.
Registration for the conference and master classes can be done on: www.onecaribbean.org.
###
ABOUT CTO:
The Caribbean Tourism Organization (CTO), with headquarters in Barbados and offices in New York and London, is the Caribbean's tourism development agency comprising membership of the region's finest countries and territories including Dutch, English, French and Spanish, as well as a myriad of private sector allied members. The CTO's vision is to position the Caribbean as the most desirable, year round, warm weather destination, and its purpose is Leading Sustainable Tourism – One Sea, One Voice, One Caribbean.
Among the benefits to its members the organization provides specialized support and technical assistance in sustainable tourism development, marketing, communications, advocacy, human resource development, event planning & execution and research & information technology.
In addition the CTO, in partnership with the Caribbean Hotel & Tourism Association, jointly and equally owns the Caribbean Tourism Development Company, a marketing and business development entity dedicated to promoting the Caribbean brand worldwide.
The CTO's Headquarters is located at Baobab Tower, Warrens, St. Michael, Barbados BB 22026; Tel: (246) 427-5242; Fax: (246) 429-3065; E-mail: CTObarbados@caribtourism.com
The CTO's New York office is located at 80 Broad St., Suite 3302, New York, NY 10004, USA: Tel: (212) 635-9530; Fax:(212) 635-9511; E-mail: CTOny@caribtourism.com;
The CTO's London office is located at The Quadrant, Richmond, Surrey TW9 1BP, England. Tel: 011 44 208 948 0057; Fax: 011 44 208 948 0067; E-mail: CTOlondon@caribtourism.com;
For more information on the Caribbean Tourism Organization please visit www.OneCaribbean.org.  Get the latest CTO updates on Twitter at http://www.twitter.com/ctotourism.  Connect with CTO on Facebook athttp://www.facebook.com/CaribbeanTourismOrganization.  Follow CTO on Instagram athttps://www.instagram.com/ctotourism/
ABOUT ANTIGUA AND BARBUDA:
Antigua (pronounced An-tee'ga) and Barbuda (Bar-byew' da) is located in the heart of the Caribbean Sea. Voted the World Travel Awards 2015 Caribbean's Most Romantic Destination, the twin-island paradise offers visitors two uniquely distinct experiences, ideal temperatures year-round, a rich history, vibrant culture, exhilarating excursions, award-winning resorts, mouth-watering cuisine and 365 stunning pink and white-sand beaches – one for every day of the year.
The largest of the British Leeward Islands, Antigua comprises 108-square miles with rich history and spectacular topography that provides a variety of popular sightseeing opportunities. Nelson's Dockyard, the only remaining example of a Georgian fort and tentatively listed as a UNESCO World Heritage site, is perhaps the most renowned landmark. Antigua's tourism events calendar includes the prestigious Antigua Sailing Week, Antigua Classic Yacht Regatta, Tinman Triathlon, Sports Fishing Tournament and the annual Antigua Carnival; known as the Caribbean's Greatest Summer Festival. Barbuda, Antigua's smaller sister island, is the ultimate celebrity hideaway. The island lies 27 miles north-east of Antigua and is just a 15-minute plane ride away. Barbuda is known for its untouched 17 mile stretch of pink sand beach and as the home of the largest Frigate Bird Sanctuary in the Western Hemisphere. Find information on Antigua & Barbuda at:www.visitantiguabarbuda.com