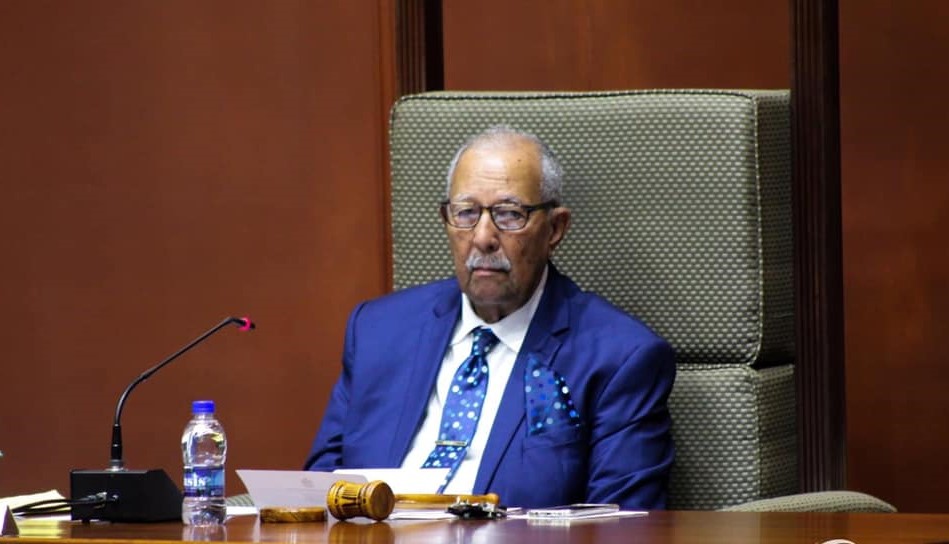 At 85 years, Gerald Watt is expected to be a man who is seasoned with reason and who is able to be at the vanguard of respect and order in the Lower Chamber of the Antigua and Barbuda's House of Assembly. No one of sound mind expects that a man who had taken the past UPP administration to court in 2012 on the grounds of the illegality of his removal from a position of public trust would now use the Office of Speaker of the House to arbitrarily and unconstitutionally suspend a member who was elected to the Lower House.
In doing so, Gerald Watt has proven that osteoporosis, in more than one form, has calcified his body and mind. He has become so inflexible and lacking in appreciation for the authority under which he should serve the people of Antigua and Barbuda that he has taken the unilateral decision to suspend the Member for St. Peter from the next three sittings of the House and from parliament. To an unbiased onlooker, the Speaker's latest missteps come across as though he is once again flashing the finger at democracy and at public decency in the country from the Speaker's chair.
History will not be kind to this fossilised Machiavellian man who chooses to break the Rules of the House asunder all the while hiding behind roles, titles and accolades. What Gerald Watt does not seem to recognise in all his years is that the facts are more stubbornly persistent than he could ever be. It is mindboggling that a man who crossed the floor to support Labour and Gaston Browne after having had a public spat with the UPP and Baldwin Spencer now seem be to using the Speaker's dais as a whipping post for those who stand up against the tyranny of Prime Minister Browne.
There seem to be no moral minimum for this man who behaves like the ungodly do in Psalm 1 – for "He is like chaff which the wind driveth away." His inclination, as Speaker, seems to please and appease anyone with a Hitlerite moustache and it appears as though he is being driven at great lengths to do so. It defies logic that a legal mind that has risen to be King's Counsel and has been immersed in the law for decades would willingly want to be identified as having dispensed a ruling in the Lower House that is blatantly unconstitutional and is being described as fallacious, fabricated and fictional.
Could it be that MP Asot Michael was correct when he told the Speaker on May 18 that he is well pass his use-by-date? There is clearly a dearth of coherency with the rules and an absence of competence in the Speaker when members of the House and the media are stating in the public square, "it is not known which Members of even the Government Bench voted for the fictional suspension of MP Michael." All we know is, Speaker Watt flew off the rocker on May 18 2023 and totally disregarded House Rules and Orders that seems to be an effort to target MP Asot Michael.
A review of the matters in the House that day shows that Speaker Watt displayed unending patience and tolerance with the cross talk and disrespect spewed by the MP Gaston Browne and another Government bencher, but he went straight for the jugular of MP Michael who sought clarity on a matter. The records will show that there was never a warning issued to the Member for St. Peter by the Speaker in relation to any infraction the Speaker would have thought that the MP had made.
A further review of that moment of inglorious infamy would reveal that at no time did Speaker Watt allow any Member of the House to move a motion nor was any motion seconded to suspend MP Michael. It was solely at the Speaker's insistence, and without a motion, that an "aye" vote was held which purportedly suspended the MP for three (3) sittings of the House. It also appears that Speaker Watt did not ask for a "nay" vote and a divisional vote was not taken to ascertain that the Speaker's unilateral and unprocedural motion had had the majority support of the Members.
Then to add an extra heaped-up helping of shame to scandal, Speaker Watt amended his unilateral suspension of the member after the "vote" by adding the words "and parliament".  One can only guess that the legal scholar thought he could have further arbitrarily amend his preposterous motion from the Speaker's chair even after he had somehow secured a vote.
Without a doubt, Speaker Gerald Watt has broken the laws of Antigua and Barbuda while sitting in the chief lawmaker's chair thereby bringing his Speakership in disrepute. He has proven that, now more than ever, he is unfit to continue in the Speaker's dais. He has been given a chance to correct this callous cock up after having been called upon by legal counsel for MP Asot Michael to withdraw in writing his illegal suspension edict by Thursday, May 25, 2023.
This sordid saga puts egg on the face of Speaker Gerald Watt but what will he do about it? Will he double-down in the dirt and make a bigger mess of the matter before him which is all of his making, or will he show understanding that he has done egregious wrong and seek to correct it without delay? Yes, we know that the facts are stubborn and so is Gerald Watt. So, we await the Speaker's response to MP Michael's legal counsel that we may see more clearly, what manner of man is that Gerald Watt.
De Anchor