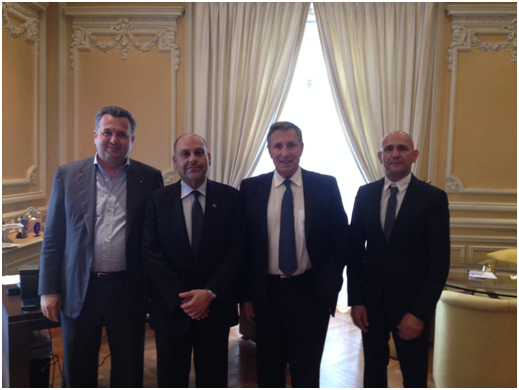 The Minister of Tourism, Economic Development,  Investment & Energy, The Hon Asot Michael attending the annual Monaco Yacht Show (MYS), the world's major event in Super Yachting, where more than 500 major companies in luxury yachting and 105 spectacular super and mega yachts afloat, exhibit every year.  With an average attendance of 33,000 participants, the MYS is the unique occasion in the year to meet the top managers of yachting companies and persons of influence in the Industry.  Minister Michael is taking advantage of this event to promote Antigua & Barbuda, as yachting is one of the key tourism activities for the Antiguan economy.
At the Monaco Yacht Show Minister Michael met with the team from the Antigua Charter Yacht Meeting (ACYM) giving support for their continued efforts in marketing and growing the yachting business in Antigua.  He was able also to meet several persons in yachting industry, including Barbara Amerio, of Permare Group, an Italian yacht builder to which he was able to obtain the commitment from the Group's Amer Yachts to co-brand with Antigua & Barbuda's Department of Marine Services (ADOMS) for marketing our ship's registry at the next annual Cannes Boat Show in 2015 and to give assistance through the Italian Nautical Association in helping to create a network for ADOMS to gain further penetration of the yacht registry market.  Permare Group was founded in the '70's and builds custom yachts from 92 feet to 116 feet.  During the 2014 Cannes Boat Show the company co-branded with Malta one of the most Ship's Registries for Europe.
While in Monaco and the Côte d'Azur Minister Michael also took the opportunity to meet with various regional government officials and private sector business persons.
On Wednesday the September 24th, upon his arrival from London, Minister Michael's first meeting was with Mr. Didier Wisselmann of  Metropole, Nice Côte d'Azur and Mr. Pascal Gauthier of Établissement Public  D'Aménagement de la Plaine du Var (EPA) where they shared with the Minister the 25 year master plan for the redevelopment and expansion of the Maritime Alps and Nice/Côte d'Azur Region of the South of France.   This meeting was helpful in giving insights to the methods used in development planning which could also be utilized by Antigua in some of our own development planning.  He also met with senior management of the Port of Nice and Riviera Port Authority which discussions surrounded proving technical assistance in the redevelopment of the Deep Water Harbour, St. John's Harbour and Heritage Quay.
Minister later met with the President of the Chamber of Commerce and Industry, Mr. Bernard Kleynhoff and had discussions surrounding cooperation in providing technical assistance for various projects to include, port development, airport management, and construction of a new prison and rehabilitation center.  Other talks surrounded attracting a 5-star French Hotel brand to Antigua & Barbuda. Minister Asot Michael is accompanied by local entrepreneur Mr. Jeff Hadeed and renowned Real Estate Developer and Financier in the South of France, Mr. Paolo Celi both of whom have been instrumental in arranging these meetings.