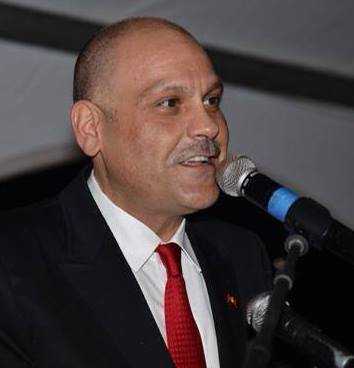 Presently I am in Rochester, Minnesota, at the Mayo Clinic with my dear mother who was hospitalized for a serious heart condition in the Intensive Care Unit. I had to fly her back here on the air ambulance, two days ago, otherwise I would be present to deliver this tribute in person.
No more that burly gait
No more that joyous face
No more that resonant voice
No more on this earth, my brother,
Conrad Jules Aska.
Yet, in my heart, he is here.
In my bones and in my marrow,
Jules lives on.
In my memory,
In my every conscious moment, he
Stands beside me as he always did.
My brother, and my friend;
My true friend!
The chain of love he forged
Has not been broken by his untimely death.
Nor has it been in the least bit weakened.
If anything, the chain has grown stronger.
Reaching beyond this mortal life
To that better place where Jules must be
Laughing and happy in the company of the Almighty.
I do not pretend that I do not feel anger at his loss.
I do not pretend that my heart is not
Bursting with the grief of his passing.
I do not pretend that I do not question why.
I do all these things
And, I cry inside, as I weep outside.
For Jules did not deserve to die so young and so sudden. 
Good afternoon Church.
Today, we have gathered to bid farewell to my dear friend and brother Conrad Jules Adrian Aska, whom I love dearly and whose love for all in his family is legendary. He was kind and generous, calm and caring, unflappable and unpretentious. He possessed the generosity of a Saint and the firm hand of a Mother Theresa. God has blessed us by sending him to be a guardian and a peacemaker; and, we thank the Almighty for his everlasting goodness.
Conrad Jules Adrian Aska fondly known to family and close friends as Jules was born on the 2nd October 1974, the first of three children of Camella Aska (deceased) and Conrad Aska. The loving, protective elder brother of Alicia and Elliot Aska was an exemplary family man. He loved his parents. He adored his daughter Kayla Zoey Aska. Their father-daughter bond was as strong as it was inspiring and exemplary. And he was particularly fond of his niece Kaia. As a measure of his devotion to piloting family interests to peace, prosperity and progress, both daughter and niece flew high on the wings of his love
The joy of his life anchored the wellbeing of his family. He was a wonderful human being blessed with a caring heart, a thoughtful mind, mordant wit and a talent for elegant conversation. At family gatherings he danced, he sang, he played stand up comedian. He held them in awe or threw them into stitches of laughter. But he was also a serious man whose resourcefulness and reliability rejoiced in planning and thinking ahead. Family members all testify that they could depend on Jules to be there whenever they needed him. He was selfless, considerate empathetic to a fault, kind and generous. He loved his family dearly and never failed to visit them regularly at residences in different parts of the world.
I empathize with his siblings saddened by the fact that "family birthdays, vacation, and holidays such as thanksgiving or Christmas will never be the same". My friend was loved by all and his death leaves great sadness in our hearts.
Jules was one of the courageous young Antiguan patriots of his generation who led the charge against overwhelming odds to use higher education in the battle to beat the poverty trap. He came from humble beginnings in the community of Cedar Grove and after passing the common entrance exams at primary school there, he moved on to the Antigua Grammar School and later, the St Joseph Academy from where he graduated.
Jules was very determined. He always knew he wanted to be a pilot and with the sacrifice of his parents he made it to flight school in Miami where he obtained a degree in aviation management and a commercial pilot's license.
I remember those days. Our families were close. We grew up with fathers who were deeply involved in the work of the Antigua Labour Party and motivated to help with realizing the development agenda of the late V. C. Bird. But it was in Miami, while I attended Barry University, that our friendship really flowered. My sister Soraya and I spent a lot of time with him hanging out, understanding America, talking about a better Antigua and enjoying the great food he loved to cook. I admired him as a high achiever with a delightful sense of humor that made him great fun to be around. He played and partied hard, but he studied harder. He never lost sight of the financial burden undertaken by his parents to enable him to realize his dream and he remained totally focused on ensuring that his success would bring them pride and joy.
He flew for a number of airlines regionally and internationally. With his deep passion for aviation he truly enjoyed the friendly skies and the various parts of the world his job allowed him to visit. He often spoke of the luxury privileges of aviation employment like spending time in exotic places, trying new foods, and having frequent time off to spend with friends and family.
Jules, the self-proclaimed, handsome ladies' man, lover of sports and consummate community activist committed to the betterment of Cedar Grove and Antigua and Barbuda has completed his earthly flight. He served faithfully. He served well. Now he soars on the eternal wings to rest in perfect peace.
And so, we must take his death as a sign and symbol, that we do not know the hour of our final parting. It may be sudden. It may be long. It may be now; it may be later. But whatever and whenever, we must know, that those who will sum up our lives can confidently say, that we worked by the sweat of our brow and with the brow of our brains to change the world. That for sure and in sum, was as true of Conrad Jules Adrian Aska as it is true of all truly remarkable citizens.
Throughout the changing scenes of the life of Conrad Jules Adrian Aska, in trouble and in joy, his enduring commitment to righteous, joyful living shone bright like a diamond in the noble aspiration to a higher purpose.
And as my dear friend soars above the wooden ships and ships that sail the sea… let us remember in the words of George W Bush that "the best ships are friendships, and may they always be."
And as the great Poet and Philosopher wrote, and I quote;
"The Reality of Life is Life itself, whose beginning is not in the womb, and whose ending is not in the grave. For the years that pass are naught but a moment in eternal life; and the world of matter and all in it is but a dream compared to the awakening which will call the terror of Death."
"The soul is an embryo in the body of Man, and the day of death is the Day of Awakening, for it is the Great era of labour and the rich Hour of Creation. Death is an ending to the son of the earth, but to the soul it is the start, the triumph of life.
If in the twilight of memory, we should meet once more, we shall speak again together, and you shall sing to me a deeper song. And if our hands should meet in another dream, we shall build another tower in the sky."
May his soul continue to rest in eternal peace.
Amen.