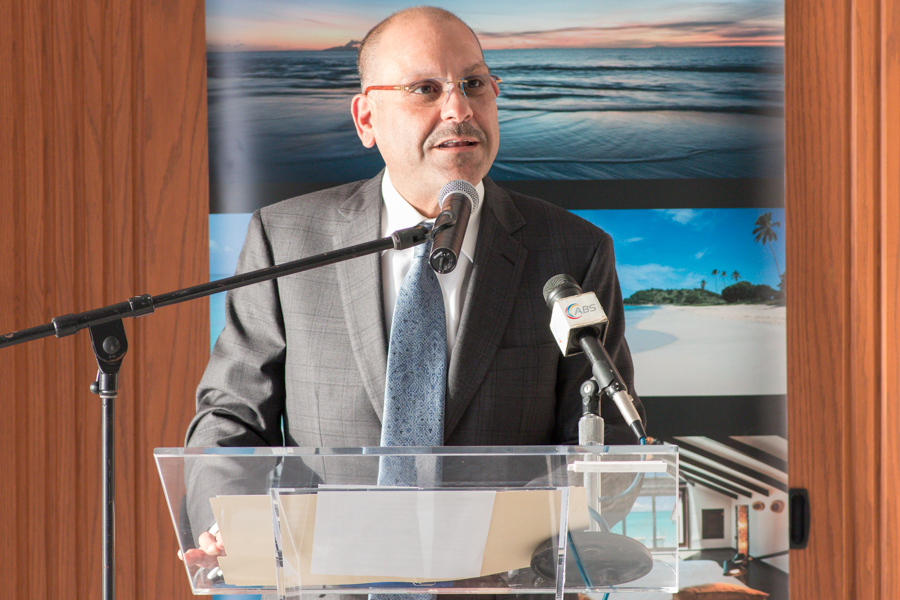 St. John's Antigua; The Hon. Asot A. Michael Minister of Tourism for Antigua and Barbuda has been heralded as the one of the region's trailblazers within the Tourism Industry.
The title of Caribbean Tourism Minister of the year was bestowed upon the Minister of Tourism for Antigua and Barbuda by the Caribbean Travel Awards as a result of the tremendous gains being made in the industry in the Twin Island state of Antigua and Barbuda in arrivals as well as in the area of new hotel investments.
According to the Caribbean Journal online magazine, "Minister Michael continues to be one of the region's most forward thinking Tourism Ministers…he has been instrumental in helping to drive Antigua and Barbuda's strong growth this year, and even more-so in turning the destination into one of the Caribbean's Hubs for hotel investment, while helping steward major projects such as the country's new airport solar farm.
Commendations have been pouring in to the Hon. Minister of Tourism from his regional and international counterparts and partners in the travel trade with the most recent coming from the OECS Secretariat.
Tourism Specialist at the OECS Commission, Dr. Lorraine Nicholas, said that this news is exciting for Antigua and Barbuda and the future of Tourism in the region.
"This is really exciting news; and the OECS Commission is honored to join in the congratulatory wishes to Antigua and Barbuda."
"This was a special year for the OECS and Antigua & Barbuda as the 3rd OECS Council of Ministers (Tourism) meeting was held in Antigua & Barbuda under the Chairmanship of Hon. Asot Michael," Dr. Nicholas said.
Minister Michael heads the Ministry of Tourism, Economic Development, Investment and Energy as well as the Antigua and Barbuda Tourism Authority. The Caribbean Island also won the Award of Destination of the year for recording 10% growth overall and 20% within the US market which is the largest for the destination.
"I am incredibly honored to be named the 'Tourism Minister of the Year,' by the Caribbean Journal. Since taking office in 2014 we have been relentlessly working to attract investments, investing in improving our on-island tourism products as well as access touch points including our new airport and our port so as to become the leader in the region. While we are excited by what we have achieved so far, we are dedicated to continuing to invest, improve and raise awareness of Antigua and Barbuda to attract even more visitors and provide them the absolutely best experience possible in travel," said Honorable Minister Michael.