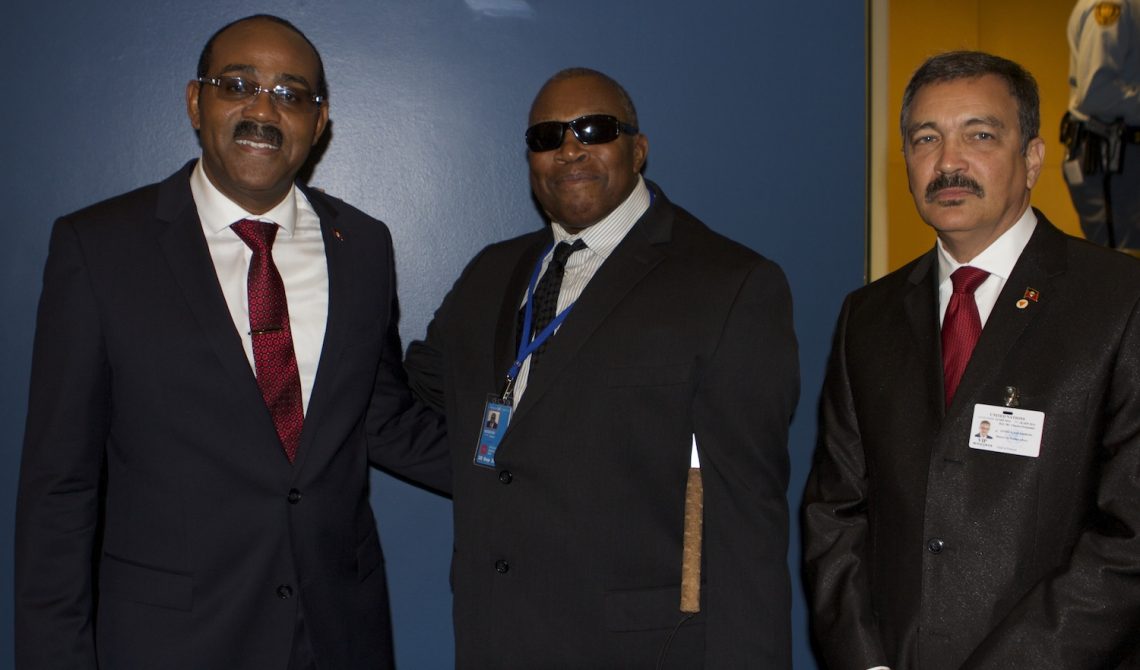 NEW YORK, NY, USA – 28th September, 2014……Prime Minister of Antigua and Barbuda the Hon. Gaston Browne has announced that Dr. Walton Alfonso "Aubrey" Webson has been appointed as the country's Permanent Representative to the United Nations as Ambassador Extraordinary and Plenipotentiary.
In a letter to Secretary General of the United Nations, Prime Minister Browne said the Dr. Webson is an outstanding citizen of Antigua and Barbuda who has made significant contributions to the social development of people with disabilities around the world.
"As a visually impaired individual, Dr. Webson has worked extensively in Latin America, the Caribbean and Africa, helping to shape educational services for children with disabilities.  He has also supported governments and social workers in policy development.  I am confident that he is very suitable for the responsibilities entrusted to him," outlined Prime Minister Browne.
Prime Minister Browne also introduced Dr. Webson to Antiguans and Barbudans living in New York during a town hall meeting on Friday in the Bronx.  He told the over three hundred nationals in attendance that Dr. Webson will be the Head of the Antigua and Barbuda Office in New York with the various department heads reporting to him under a new arrangement which sees the Tourist Office, the Consulate and the Mission to the UN being merged as a single unit.
During the town hall meeting, Prime Minister Browne also announced that an offer has been made to Dr. Dave Ray to be the Diaspora Liaison Officer creating a link between the Diaspora and the government.  He said the move is designed to strengthen the relations with Antiguans and Barbudans in the Diaspora and to have them play and active role in the development of their homeland.  He said the aim is to have Dr. Dave Ray, as Diaspora Liaison Officer, capture the issues of Antiguans and Barbudans in the Diaspora and he will then liaise with the Antigua Office in New York headed by Dr. Webson.
Dr. Webson's appointment as Permanent Representative to the United Nations takes effect from 1st November.