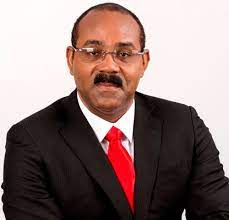 Gaston Browne accuses colleagues of laziness, dishonesty and corruption
St Johns Antigua, Jan 26th, 2022 – Prime Minister Gaston Browne has disclosed that Asot Michael has more influence than him over the ABLP team of candidates he led to a loss of the popular vote in the January 2023 general election.
The Prime Minister shared this belief on his private Radio Station Point FM last weekend. He chastised his colleagues as dishonest, lazy and corrupt in their "fear" of Asot Michael's money, after dragging the election campaign into a personal vendetta against the former ABLP MP for St. Peter, in which he failed to get the support of his colleagues:
"And it's not that I have not asked my colleagues you know… On one occasion we planned a public meeting during the same campaign to go into St. Peter to put some licks in him, to let the people know what the truth is.
"So, I said to my colleagues look, you can't have a situation in which the Prime Minister is the only one attacking Asot Michael. Which one of you… how many of you are prepared to carry the fight to him? Only one man put up his hand you know, of all the seventeen candidates. You know what we had to do? We had to cancel it".
"And I believe… it was out of fear. They fraid Asot Michael money".
So, in Browne's assessment, as a result of candidates fudging voter support numbers, not putting in the work and running scared of the financial resources of the independent candidate in St. Peter, "we almost lost the government".
"I felt as though some of my colleagues literally surrendered their seats… for some reason they were not well in touch, they were clueless. Many of them were fudging the figures… and they were not putting in the type of work that was necessary".
"Fudging figures" means the dishonest conduct of falsification, manipulation and misrepresentation, unbecoming of persons seeking to hold public office. "Not putting in the work" means the laziness of low energy, disinterest and indiscipline, also unbecoming of persons seeking to hold public office.
Fear of Asot Michael's money means his colleagues are corruptly beholden to the history making independent candidate and will do his bidding instead of serving the people "without fear or favor"- a fundamental requirement of public office.
In the struggle to get the ABLP back in government, Browne himself has received more Asot Michael money than all his colleagues combined. He is not afraid. But he knows they are afraid.
He describes his colleagues as a team of little, if any, integrity devoid of the capacity to get the job done. They feel the same way about him. But for personal gain, they have to stick together, come hell or high water.
Only the illustrious Sir Robin Yearwood, appears to be expendable at this time. So, on the verge of celebrating his golden jubilee in the Parliament of Antigua and Barbuda Browne kicks him out of Cabinet to be Deputy Speaker of the House and Chair of Statutory Corporations that operated under him as Minister. Now, in his twilight years, Sir Robin is disgracefully demoted to report to the Minister who has replaced him, while Gaston Browne's wife, who was hardly ever in her office in the previous government is promoted to higher ministerial responsibility.
This self-serving, vindictive exercise of power is coming from the head of a minority government who lost 11% of his support in St John's City West and caused the ABLP to lose 13% of its support across the country with 15 of the 17 candidates getting less votes in 2023 than they did in 2018.
-ENDS-